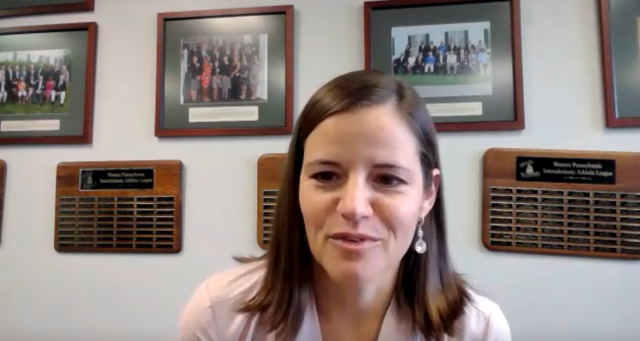 WPIAL Executive Director Amy Scheuneman talks about the upcoming Sports Management Summit
Robert Morris University's Sports Management program has a long history of placing students in professional positions.
Many alumni have grown in their roles since graduation and have risen through the ranks.
After years of serving as athletic director for various schools in the Pittsburgh area, including Avonworth, Bethel Park and North Hills, Amy Scheuneman moved to the Western Pennsylvania Interscholastic Athletic League.
As of July 2020, Scheneman became the executive director of WPIAL.
"Being athletic director helped me see the school side of things and it's quite different in a league office based on the fact that we deal with 144 schools," Scheneman said. "It was a transition and certainly different from a sporting director and it has its pros and cons."
A graduate of Plum High School, Scheneman is still using the skills learned during her time in the sports management program.
"You take a few snippets that you learned in class, whether it's his communication skills or his networking opportunities and the everyday things you learn in class from Robert Morris will translate into your professional career," Scheneman said.
In 2018, Scheneman was inducted into the Sports Management Hall of Fame because she always makes it a priority to provide valuable skills to students at the annual summit.
"The networking that happens at this event is something very vital," Scheneman said. "Students participating in the [summit] wouldn't have such a good experience if the professionals didn't come back, so I think it's an obligation for those who have gone through the program to come back and offer their expertise.
You can listen to the full interview here.