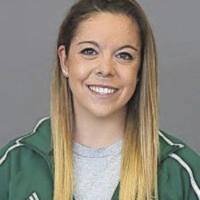 Under the Lights: The Knights Produce the Most Elite Athletes in 3 Sports | local sports
KNIGHTS IN ROLL
North Andover High is on a sporting spree. Peter Martel and Kelcey Dion have just been named our Max Bishop Award winners as athletes of the year in 3 sports. Over the past 7 years, half of the winners have been Scarlet Knights: Martel, Dion, Jake McElroy, Allie Rodrigues, Erick Duffy, Abbie Karalis and Leah Chittick.
LENNON NEW JOB
Former Methuen High star Kelly Lennon has just been named assistant coach of the West Point women's swim team. Lennon was a captain at UVM (and an NCAA Woman of the Year nominee). She recently earned her Masters in Sports Administration from UNC-Chapel Hill.
DOUBLE SERVICE WANE
Haverhill High basketball coach Souleymane Wane also supports the boys' work. The former UConn 6-10 hoop star replaces former Hillie great Charlie Roche, who went 23-47-13 in five seasons.
WILD HONORS
Local UNH football players Owen Gormley (Salem), Jacob Post (Timberlane) and Osho Omoyeni (Central) have made the CAA Academic Honor Roll. Players needed a GPA of at least 3.0 for the spring semester.
MONEY RUSH
Michael Hixon, of Amherst, Mass., won his second consecutive Olympic silver medal in pair diving. The University of Michigan MBA student is the grandson of Andover High basketball great Wil Hixon. Her father is Amherst College and Andover Hall Famer David Hixon. Mom is UMass dive coach Mandy Hixon.
THE CAKES COOK
UTL birthday wishes go to BU hockey rookie Brian Carrabes of North Andover (20 today), Vanderbilt All-American Dom Keegan of Methuen (21 today), track legend Carmen Iannuccilli of Lawrence (79 tomorrow), Sabrina Lippold of Windham Field Hockey (19 Thursday) and Minnesota Twins prospect Steven Hajjar of North Andover (21 Saturday).
WORLD ROWING
Jacob Hudgins of Andover and Dartmouth College represented the United States in the men's eight at the World Rowing Under-23 Championships in the Czech Republic. Hudgins graduated from Phillips Academy.
THE FEAR ESCAPES
Add Northeast hockey goaltender Evan Fear to the All-Name team.
A LAST THOUGHT
If you can make someone smile today, do it.
…
EMAIL: [email protected]