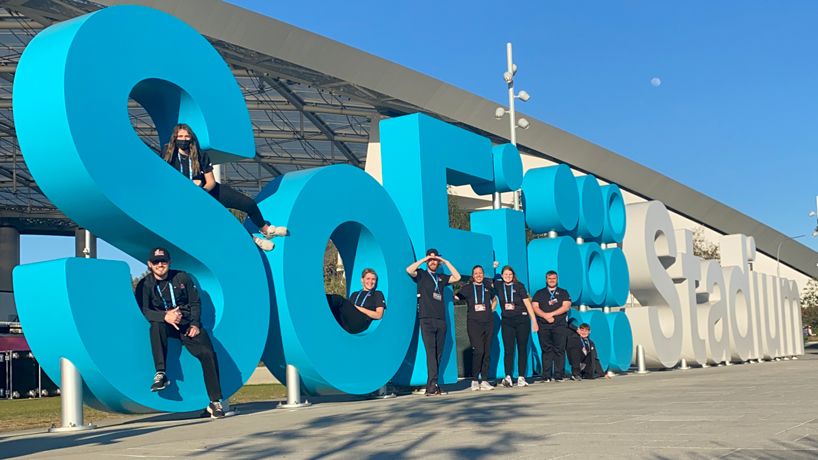 UMSL Sports Management Students Work Super Bowl LVI – UMSL Daily
More than 112 million people tuned in to watch the Los Angeles Rams and Cincinnati Bengals square off on the court in Super Bowl LVI on February 13.
While most people had to settle for watching the big game on the couch, seven lucky sports management students from the University of Missouri-St. Louis got a much closer look at the Super Bowl action on Sunday.
The students were among thousands of volunteers who helped produce the nation's biggest sporting event. They worked the field before the game and during the first quarter, validating credentials and monitoring access to restricted areas of SoFi Stadium.
Junior Kalyn Ohrt said the five-day trip to Los Angeles to work the Super Bowl was a once-in-a-lifetime opportunity.
"It was a really cool, surreal experience," Ohrt said. "I had expectations about it, but it exceeded them all. It was really nice to get to see the ins and outs and behind the scenes of what it takes to put on a Super Bowl, and I'm sure we've only seen a fraction of what really goes into putting on such a big event."
Karen Boleska, director of the sports management program, who is at the College of Education, and the participating students began planning the trip in September. Boleska places a high priority on practical skills, seizing opportunities for industry networking and professional development.
As she discussed potential opportunities for the school year, several students came up with the idea of ​​volunteering at the Super Bowl. Within two weeks, they had booked flights and worked out budgets for the trip. To help pay for expenses, junior Alex Elmore led a fundraiser with the St. Louis Blues.
"We just thought, 'Why not the Super Bowl?'" Elmore said. "We decided to do it and we made it possible."
Boleska and the students arrived in Los Angeles on Thursday before the Super Bowl. Before the game, all the students went through online training for their homework. They also toured the stadium to familiarize themselves with the space and their positions.
For them, game day began at 5 a.m. Sunday when they met other volunteers and event officials at a nearby community college before heading to SoFi Stadium. After clearing security and receiving identification, they took their places in the stadium's underground tunnels that lead to the pitch level.
The UMSL team worked with NFL safety; CSC, an event security company; and ex-FBI agents to verify credentials and help direct traffic through the tunnels. Boleska said everyone was very welcoming and eager to work with student volunteers.
"The most important thing they have stressed to us is that safety is their number one priority," said junior Jacob Vogel. "Security was a big issue there because there were trucks, buses and golf carts going around. Even though we check credentials, we also watch everyone around us. When a bus going on, we were telling people to be careful and make sure they're in a safe place so no one gets hurt.
Boleska was impressed with the team effort.
"For us to see how someone in the NFL played the same role as someone who has been volunteering there since college was super cool," she said. "Everyone was kind of on the same playing field."
Because they controlled access to restricted areas, the students had a few chance encounters with celebrities. They checked the credentials of Jay Z, his bodyguard and his daughter and also saw former NFL quarterback Drew Brees and NFL commissioner Roger Goodell.
However, one moment in particular stood out for senior Amanda Barry.
"Snoop Dogg walked past us, and it will stay with me for the rest of my life," Barry said with a laugh.
The students' shift ended after the first term, and Boleska noted that everyone almost forgot they were at the Super Bowl because they spent most of their time underground in access tunnels. But the elevator ride to the mezzanine floor quickly called them back. Boleska said the group was amazed.
"We rise to that level, and the doors open, and it felt like a movie," she said. "The doors opened and the stadium was packed with people – the Super Bowl is here. I don't think I'll ever forget it."
In addition to volunteering at the Super Bowl, the students also took the opportunity to network in California.
Prior to the trip, Boleska met Robbie Silva, a St. Louis native and sales coordinator with the NHL's Anaheim Ducks. Silva invited the students to a Ducks game, and they got to tour the Honda Center and meet with Scott Booth, the organization's ticket sales manager.
Barry also reached out to Brandy Thigpen, who was on the committees to bring the Super Bowl and the 2028 Summer Olympics to Los Angeles. She met with the students on their first night out on the town to discuss her experience with event planning and marketing.
They even found time to network at the Taste of Inglewood.
"The Clippers were there to announce their new stadium that they're about to build," senior Josh Dietz said. "We were able to meet reps, get LinkedIn accounts, and connect."
But it wasn't all business, all the time. Although Boleska stresses the importance of professional development and networking, she also wants to help her students create memories that they will take with them.
"Many people had never flown and the majority had never been to California before," she said. "As a leader, I think we still have to make sure they have other memories outside of sport. That's what we're here for. We're going to do it every day, but we can also we did the Hollywood sign and we went up to the observatory. We did the Walk of Fame. We went to thrift stores, Muscle Beach and Santa Monica Pier. We stopped at the Dodger Stadium on the way out. We did all those little things because we're always here to build memories.

Short URL: https://blogs.umsl.edu/news/?p=92502