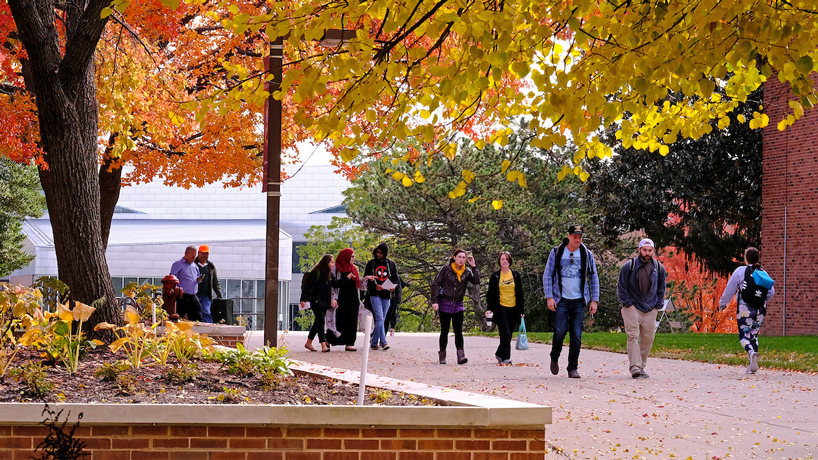 UMSL Adds New Degrees in Organizational Leadership and Sports Management – UMSL Daily
The University of Missouri-St. Louis continues to expand its degree offerings to meet the needs of a changing workforce.
The Missouri Department of Higher Education and Workforce Development has approved UMSL's plan to add a Bachelor of Arts in Organizational Leadership and a Bachelor of Science in Sports Management. Students can begin enrolling in both programs as early as the Spring 2020 semester.
"UMSL is committed to evolving to serve the interests of our current and future students," said Acting Chancellor and Vice President Kristin Sobolik. "We want to create opportunities to pursue exciting careers and help students progress in the jobs they already have. These new degrees in organizational leadership and sports management will do just that, paving the way for students to improve their lives.
The BA in Organizational Leadership is a graduation program designed for adult learners who might have an associate's degree or college credits and are looking to strengthen their careers while already in the workforce.
In many cases, these students could have had their career advancement blocked because they did not have a bachelor's degree. The interdisciplinary program will help open up new opportunities.
It will be housed in the College of Arts and Sciences as part of the Department of Sociology, but guidance will come from UMSL NOW – Nights, Online, Weekends. The degree can be completed 100% online, although students have the option of taking classes on campus if they wish.
The curriculum will be social science-based with elements from several existing curricula. Like a business degree, organizational leadership students will learn the basics of management, but the BA will be more flexible and suited to adult learners with areas of interest such as community studies, information systems, criminal justice , business communications, business management, supply chain management and health communication.
"As the economy grows and evolves, the demand for well-educated employees who possess both subject-specific knowledge and leadership skills will grow with it," said Associate Professor Jim Craig, head of the department. of sociology. "As the anchor institution of St. Louis, UMSL has an obligation to help meet this demand. The BA in Organizational Leadership does just that by providing students with the knowledge, skills and credentials needed to advance in a rapidly changing economy. This program is good for the students and good for the region.
The Office of Admissions has received frequent requests for a sports management major over the past few years as participation in athletics, at all levels, from youth sports to NCAA athletics, has experienced constant growth.
Last year, the Bureau of Labor Statistics identified sports management as a field with enormous growth potential over the next decade due to the increased need for specialized support for sports-related groups and organizations due to this increased participation.
The new study program is designed for undergraduate students seeking training in the organizational, logistical and managerial aspects of sport.
It will be hosted by the College of Education's Department of Education and Professional Programs, but will be run in conjunction with the College of Business Administration. The degree will provide students with the knowledge and skills necessary for a variety of sports and business management roles with professional sports organizations, intercollegiate athletics, youth sports programs, sports public relations, marketing, media and merchandising. Some people who earn sports management degrees go on to work as sports agents, directors, managers, or analysts.
The program will meet the standards set by the Sport Management Accreditation Commission. Currently, Missouri has a COSMA-accredited program, and none exist in the St. Louis area.
"With the growth of the sports industry in the St. Louis area and beyond, graduates of UMSL's sports management degree will be equipped with in-demand skills relevant to future success and employment in a growing sports industry," said Assistant Professor Timothy Makubuya, the acting coordinator of the sports management program. "Our newly designed degree offers a unique and interdisciplinary approach to the field of sports management. Students will be able to take advantage of on-campus and industry-wide opportunities in St. Louis for internships and on-the-job experiences in multiple areas of the sport. Unlike many programs that allow students to complete internships during their final year, our program will provide many opportunities for micro-internships throughout the program. »
Makubuya believes in the immediate support of sports organizations such as the St. Louis Blues, St. Louis Football Club, Gateway Grizzlies and Go! St. Louis will help ensure that students receive first-hand exposure to the dynamics of the sports market.

Short URL: https://blogs.umsl.edu/news/?p=82700