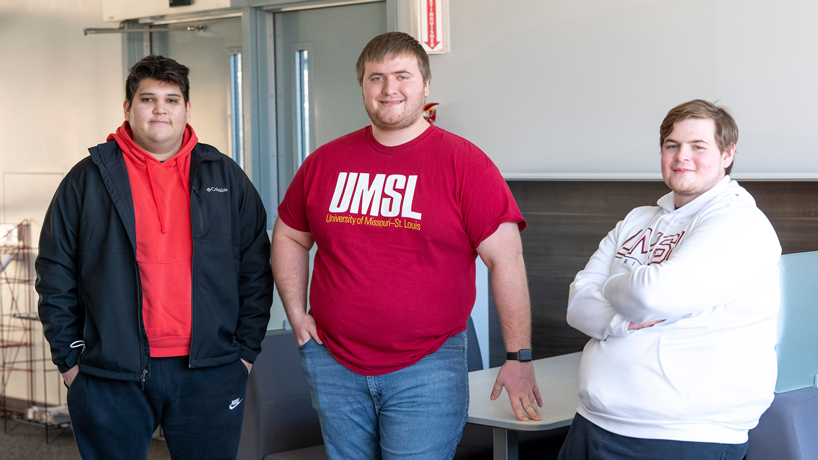 Sports Management Students Participate in National Collegiate Sports Sales Championship – UMSL Daily
As Jacob Stoker picked up the phone call he was expecting, he tried to remember his training: be brief, be friendly, and ask the right questions without being pushy.
He had been tasked with selling a premium ticket package for an Atlanta Hawks game to a mystery shopper.
"It was something that I used as a strength, just being sympathetic, being able to talk to the person but finding a way to ask the questions I needed," Stoker said. "That was definitely my biggest strategy."
The drill was part of November's qualifying round for the 2022 National Collegiate Sports Sales Championship. Stoker, a sports management major at the University of Missouri-St. Louis, ranked 35and in the country, securing a birth for the next round of the championship, and helped the UMSL team to a top-25 finish.
Seniors Alonso Argotte and Eddie Cooney have joined Stoker to complete the UMSL business team.
Hundreds of students from 52 universities across the country participate in the competition, which offers college seniors the opportunity to showcase their sales skills. Student competitors act out role-playing scenarios in which they attempt to sell professional sporting event ticket packages to potential buyers. These "buyers" are actually volunteer sales managers and recruiters for professional sports organizations.
The qualifying round consisted of three 20-minute phone calls for each sales team. After each call, judges grade student performances based on an established rubric, and each university's top performers move on to next month's championship round at State Farm Arena in Atlanta. In the final round, eight students will compete to be crowned the winners.
The Atlanta Hawks, Baylor University's Center for Sports Strategy and Sales, and Eventellect are hosting the event, along with an accompanying conference, where students will have the chance to network with industry professionals. Many organizations from MLB, MLS, NBA, NFL and NHL have also been involved in sponsoring the competition and will be recruiting for entry-level positions.
Argotte decided to participate because he transferred to the sports management program, which is in the College of Education, as a junior and was interested in gaining more experience in the field and building his resume. Stoker also wanted to gain experience and try something new. He was surprised at how much the competition has grown since its inception in 2019.
"I didn't realize it was such a popular contest," Stoker said. "There are people from different ESPN shows and personalities who were sending in shoutout videos. It's definitely a big deal.
Sports Management Program juniors Alex Elmore and Jacob Vogel also helped prepare the team for competition and will join their fellow seniors to attend the championship and conference in February.
Elmore is looking forward to competing next year and wanted to start preparing as soon as possible, while Vogel thought participating in the practice sessions at the competition would be a good opportunity to explore another area of ​​the sports management field.
"I think this competition was the perfect time to learn and see if it's something we can have a future in, and that's something good to know," Vogel said.
Although excited about the competition, most students had no sales experience. To get them up to speed, Karen Boleska, director of the sports management program, brought "guest coaches" to UMSL ahead of the qualifying round in November.
For seven weeks during the fall semester, professionals from various organizations, including the St. Louis Blues, trained sports management students in the basics of selling and writing an effective pitch to buyers. potentials.
"The fact that Dr. B had all these coaches was really awesome," Argotte said. "We learned a lot and she opened it up to all of our classes. If students wanted to come and learn and sit down, they could. I thought that was a really cool experience. We had these coaches, and we were able to network with them and hear great tips and tricks from people who have been selling tickets for a long time.
On Monday, coaches explained the key elements of sales conversations and reviewed a study guide provided by meet officials. On Wednesdays, the students role-played sales calls with the coaches, who played different buyer personas.
After receiving feedback, students learned to streamline their presentations, control the pace of conversation, and counter objections. However, the most important lesson came from the re-evaluation of the product. The coaches tried to make it clear that the students were selling more than tickets. They needed to sell an entire organization and everything that goes with it, including its hospitality, traditions and values.
"We sell experience," Vogel said. "We're trying to sell them something that's going to give them an experience they won't forget."
The seniors put those lessons to the test in the qualifying round.
Argotte felt his call went well even though he was unable to close a sale. His buyer had an objection to the price of the ticket package and he backed off when, in retrospect, he had some leeway to press the issue. Stoker was also positive about his call-up but admitted he felt pressured as he neared the 20-minute mark.
"You feel like you have a lot of time when you start the call, but when you're in the middle of the questions, the time just disappears," he said.
Nevertheless, their performances deserved the best 100 finishes individually – Stoker at 35 and Argotte at 79 – and pushed UMSL into 18and place in the set heading to Atlanta. Stoker will represent UMSL in the championship round.
"I think it's pretty exciting," he said. "A career in sales was not an idea for me until this fall semester, so to see that I have done quite well compared to other students who are considering this career path is quite rewarding and encouraging. . Advertising the top 100 through the NSSCC on LinkedIn has already helped me connect with sales reps from several organizations. »
All students plan to take advantage of the opportunity to network during the championship. Those who don't compete will still be able to participate in smaller on-site competitions and mingle with industry professionals.
Both Elmore and Vogel have internships with UMSL Athletics this semester, but hope the trip to Atlanta will help them find prospects for future internships or full-time positions after graduation.
"It's important that we network with people and bond there," Vogel said. "Exactly. The other point is, can we do something to improve or look good, since we're not competing? How can we get these companies to look at us?
Argotte and Stoker aren't sure if they'll get into ticket sales after graduation, but whatever they do, the experience has been invaluable to their professional development.
"I'm trying to start photography, videography for sports," Stoker said, regarding the future. "Applying what we've been doing these few weeks has helped me to not only get more contracts and more work offers, but also to maintain relationships because I know how to have those conversations."

Short URL: https://blogs.umsl.edu/news/?p=92027