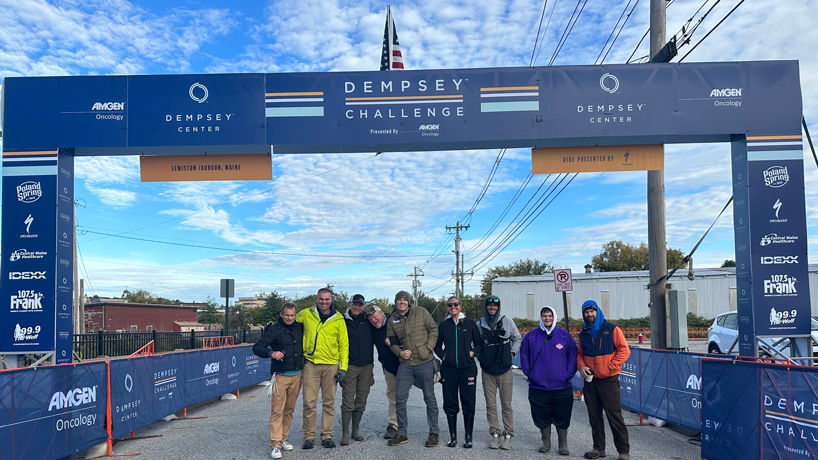 Sports Management Student Alex Elmore Volunteers at the 2022 Dempsey Challenge – UMSL Daily
Despite the nonstop rain, Alex Elmore was constantly on the move to "put out the fires" during the 2022 Dempsey Challenge in Lewiston, Maine.
Elmore, a University of Missouri-St. Louis senior majoring in sports management, had to make on-the-fly decisions and adjustments due to inclement weather, including keeping the banners and backdrops he had meticulously hung in place.
"It was hard to follow that because the wind was constantly breaking those ties," he said.
He was one of 800 volunteers from across the country who helped make the Dempsey Challenge run smoothly on September 24-25. Over 1,000 people flocked to Simard-Payne Park to run, walk, bike and cheer on others during the annual charity event.
It's the biggest fundraiser of the year for the Dempsey Center, which was founded by actor Patrick Dempsey in 2008 and provides free support to cancer patients and their loved ones. Two locations in Maine and an online portal, Dempsey Connects, offer a variety of services, including counseling, nutrition classes, and movement and fitness classes.
Participants ran and walked in 5k and 10k races on Saturday and cycled 10, 20, 50, 65 or 100 mile bike paths on Sunday. Both days also featured combined run/walk and ride events, as well as a virtual challenge for those unable to make it to Maine. Their efforts over the weekend raised $1.6 million for the center.
"It was great knowing that what we could do was helping not only the community, but also the Dempsey Center," Elmore said. "Everything is free there because of events like this raising that money, and it's great to know that's what we're doing it for."
The event also helped Elmore – a recipient of the Triton Summer Fellowship, Chancellors Transfer Scholarship and Associate's Degree Completion Scholarship – continue to develop professional skills in the field. .
The opportunity to work it stems from previous volunteer experience at the Saint Francis Tulsa Tough Ride and Race, a three-day cycling festival in Tulsa, Oklahoma. Elmore and several other UMSL sports management students worked with Medalist Sports, an event production company specializing in bike racing, at the festival in June.
Karen Boleska, director of the sports management program at the College of Education, said the students had a positive experience in Tulsa and stayed in touch with the company. As the Dempsey Challenge approached, Medalist Sports asked Boleska to collaborate again.
Elmore jumped at the chance to pursue the relationship. Boleska places a high priority on practical skills and professional development, and this is the type of opportunity she encourages students to pursue. In this case, Elmore's initiative paid off.
"During our relationship, from Tulsa Tough and the Dempsey Challenge, we secured an internship for Alex for the next semester," Boleska said. "Through this relationship we established, I spoke to the President and CEO, and we secured a spring, summer, and fall internship for two students each semester. »
The relationship continued into the fall semester as well. Several sports management students, including Elmore, recently volunteered for Bicycle Across South Carolina, a multi-day gravel ride that takes participants off-road on the state's scenic trails. Boleska said there are also plans to volunteer at races in November.
Medalist Sports covered Boleska and Elmore's travel and accommodation expenses and also paid Elmore for his weekend work in Maine. In the past, Elmore and other sports management students have worked with major sports organizations at events such as the Super Bowl and NCAA March Madness. In these cases, students were a small part of huge and complicated productions.
However, due to the smaller scale of the Dempsey Challenge, Elmore was able to play a bigger role in producing the event and connecting with the Lewiston community. For him, each day started at 3 a.m. to start preparing for the races.
Elmore and other volunteers erected virtually the entire Simard-Payne Park site, including barricades, fences and tents.
"It was my first time setting up a venue," Elmore said. "I hadn't done this anywhere else, and it was good to see where the pieces fell and why we were doing what we were doing."
He also helped set up first aid and hydration stations, golf cart and EMS courses, and start and finish lines. Sponsor activation – hanging sponsorship banners and backgrounds for photos – was another key task.
"For the outside world, it's just a backdrop – it doesn't really matter," Boleska said. "When the main sponsor gives half a million dollars to the event to donate and have their sponsorship everywhere, the backdrop with their logo on it 900 times in the background of each image is important."
Other activities during the event ranged from whimsical to poignant. Attendees enjoyed dog and unicycle races, food trucks, beer and wine tastings, and a concert stage. Elmore was thrilled to see community members come out to support the festivities, while Boleska found the Survivor's Walk particularly moving.
"The Survivor March was very impactful when it happened," she said. "It's just one of those defining moments that the whole city is rallying for. It's a once-in-a-lifetime day. It was cool that we were in the field to see the results of our product. Seeing people enjoying it was super cool.
Heading into the weekend, Elmore also set a goal to be more outgoing and proactive in networking. He is naturally more introverted, but through the sports management program he has learned that on-the-job experiences are extremely important for personal and professional development.
This is especially true as graduation approaches. Elmore is still weighing her options after graduation, but wants to continue growing in the sports industry by building her resume and grabbing the best possible opportunity.
He achieved his goal for the trip, going out of his way to mingle with other volunteers and speak with members of the Dempsey Center Board of Trustees who discussed with him the history of the center and its mission.
"I think being around a great group of people, I had a good opportunity to open up and be a little more outgoing," he said. "I had a support system there that helped me grow as a person."

Short URL: https://blogs.umsl.edu/news/?p=95482