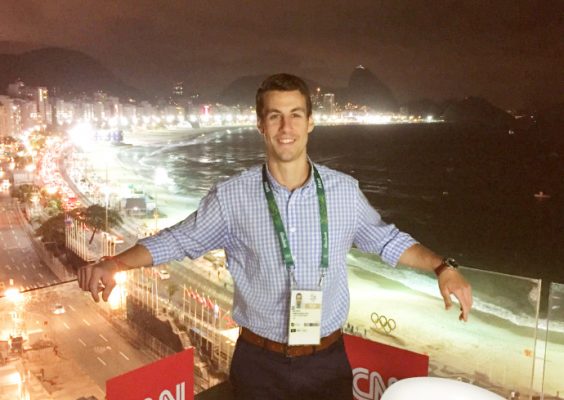 Sports management alum helps light up Olympic athletes at Tokyo Games
The Tokyo Olympics brings together countless stories of athletes and their struggles, determination and victories. Brian Meyer '11 helps bring these stories to his fans and the world.
Meyer is an account director at creative agency 160over90, the lead marketing agency for Visa's Olympic and Paralympic athlete sponsorship program, "Team Visa," which sponsors athletes around the world. Meyer helps manage the Team Visa program, working with a team to coordinate athlete media and marketing appearances.
"In the years leading up to the Games, we help develop the program's strategic marketing plan, conduct research and make recommendations of athletes to partner with, negotiate contracts, and then manage relationships. with athletes and their agents," Meyer said.
As the Games approach and throughout the Olympics, all the hard work comes to fruition as the athletes are at the forefront of the world.
"We manage all the activations and ways in which Visa presents its athletes; this could include managing creative approvals, appearances (in-person or virtual) and social media posts," he says.
For the Tokyo Olympics, Team Visa includes 102 athletes from around the world, representing 54 countries and 28 sports. The team includes Simone Biles of the United States, gymnastics; Megan Rapinoe of the United States, soccer; Katie Ledecky of the United States, swimming; Oksana Masters of the United States, para-cycling; Gabriel Medina from Brazil, surfer; Mariana Pajon from Colombia, BMX racer; Kanoa Igarashi from Japan, surfer; PV Sindhu from India, badminton; and Sky Brown from Great Britain, skateboarding.
Meyer, who earned a degree in sports management from the Falk College of Sport and Human Dynamics, is in Tokyo for the Games. "Most of the Visa team is based in central Tokyo, in the area known as Marunouchi, near Tokyo Station, which is close to the visa office," says Meyer, who participated in the Falk College's inaugural Olympic Odyssey course and voyage, which explores the history of the games and includes a trip to visit the Olympic cities.
What's the best part of working with the Olympians? "Getting to know and develop relationships with athletes from all countries, sports, backgrounds and cultures, and having the opportunity to hear and help tell their stories," Meyer said.
Meyer, who has worked with athletes for the Rio 2016 Games and the PyeongChang 2018 Games, is thrilled to see all the athletes' hard work come to fruition. "I always look forward to seeing our athletes, with whom we have established relationships for years, compete and succeed. Because for most of them, they only get the chance to be honored every four years; that makes it very special," he says.
Revisiting a city he knew after the PyeongChang Olympics will also be a highlight.
"I'm excited to return to Tokyo to experience the city and the culture there," Meyer said. "I went there a few days after the PyeongChang Games in 2018 and have been looking forward to going back ever since."