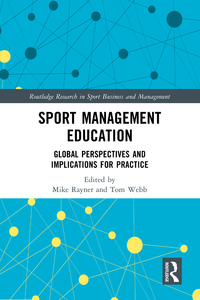 Provide training in sports management to
A new book, edited by Dr Mike Rayner and Dr Tom Webb of the University of Portsmouth, has been published and examines a range of contemporary issues relating to the global delivery of sports management education.
Sport management education: global perspectives and implications for practice, published by Routledge, brings together sports management scholars from around the world and examines how their practice in education has been shaped by the cultural, religious and political context of the national regions in which they work. The book contains research conducted by more than ten global education partners of the University's School of Sport, Health and Exercise Sciences.
It aims to identify the fundamental principles of sports management education and delivery and addresses key aspects of sports management programs, from program design and delivery to issues relating to the unified accreditation and the needs of employers. It also focuses on what sports management education might look like in an increasingly digital post-COVID world.
At a time of unprecedented change in higher education, the book takes a close look at how sports management education can and should produce positive results in sports business and management outside of academia.
Dr Tom Webb, Lecturer in Sports Management, said: "This is essential reading for all sports management educators and anyone working in sports-related professions looking to understand the platforms education issues and their policy implications at local, regional, national and international levels. level."
---
Warning: AAAS and EurekAlert! are not responsible for the accuracy of press releases posted on EurekAlert! by contributing institutions or for the use of any information through the EurekAlert system.