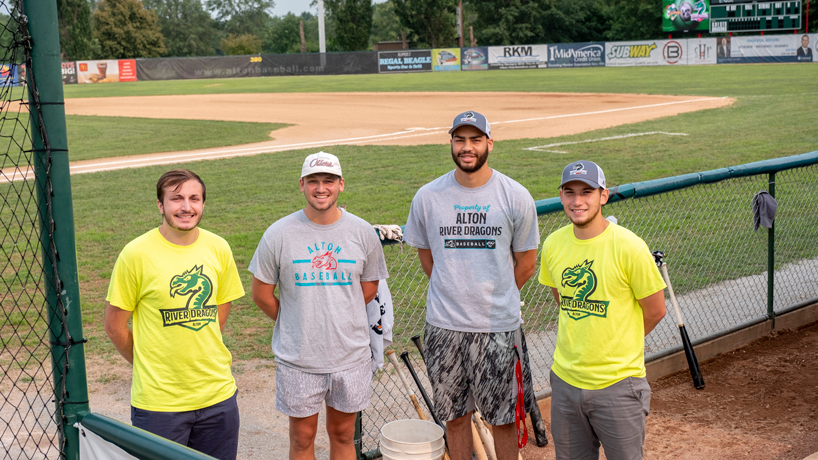 New UMSL Sports Management Program Launches Student Careers
Eddie Cooney attended classes at St. Louis Community College–Meramec and worked full-time at Best Buy as part of the Geek Squad. Lucas Marroquin had just transferred to the University of Missouri-St. Louis to study commerce.
Although deep down inside, both sports enthusiasts wanted to pursue a career in professional athletics.
"I've always really liked sport because it was something everyone had in common, no matter where they came from," Marroquin said. "Sport has always been something that could unite people. Something about the competition, the athletics, I think it's very powerful. If I wasn't going to play, I wanted to work in the sport and be part of it.
However, Cooney and Marroquin saw no clear path to their ambitions. At least, that seemed to be the case until UMSL added a Bachelor of Science in Sports Management in 2020. Cooney transferred to UMSL to enroll in the program, and Marroquin changed majors without hesitate.
As director of the new degree program, Karen Boleska has helped students like Cooney and Marroquin pursue opportunities to gain valuable experience and make connections in the sports management industry.
"Her list of promises that she has is something very high to keep, but so far she has done a phenomenal job – tons of opportunities," Cooney said of mentoring Boleska. "I have done internships at UMSL now. I did internships with the Alton River Dragons, so lots of opportunities. I was able to capitalize on it thanks to her.
Marroquin — and two other classmates, Myles Cephas and Connor Horack — joined Cooney this summer to intern with the Alton River Dragons, a Prospect League collegiate summer baseball team. Other students have secured internships with Major Arena Soccer League, Minor League Baseball, POWERplex STL, and UMSL Athletics.
While the program provided an abundance of opportunities for students, it also represented an opportunity for Boleska. She was able to build the program from the ground up and reshape the program to cater to such a rapidly changing field.
The Office of Admissions has received many applications for a sports management major in recent years, and the plan to add the degree was officially approved in 2019. The inaugural cohort entered the program during the academic year 2020-21.
The program is housed in the College of Education's Department of Education and Professional Programs and is run in conjunction with the College of Business Administration. The flexible degree is designed for undergraduates seeking training in the organizational, logistical, and management aspects of sports and can be used to pursue a variety of roles in professional sports organizations, intercollegiate sports, and sports programs. recreation and sports for young people.
Boleska had the perfect blend of experience – as an athlete, graduate assistant, and teacher – and vision to bring sports management to UMSL.
She was born and raised just outside of Toronto and came to the United States as an undergrad to play soccer at Lincoln Memorial University in Tennessee. After graduating, she decided to stay in the country to pursue graduate studies at the University of the Incarnate Word in San Antonio.
At Incarnate Word, Boleska worked as a graduate assistant at the campus wellness center and founded a club sports program — a first at the university — in addition to completing her master's and doctoral degrees. In 2018, she moved to Husson University in Bangor, Maine to become an assistant professor of sports management.
At the start of the COVID-19 pandemic, Boleska had time to reflect and decided she needed a change. This impulse led her to UMSL.
The blank slate allowed Boleska to revamp the traditional courses she saw in Husson, which she says were quickly falling behind the rapidly changing industry. She built UMSL's new curriculum around contemporary digital media such as TED Talk videos, podcasts, and online news articles.
"I came in with a different approach," she said. "I got rid of all the textbooks. I think things in the sports industry move too quickly for textbooks to keep up.
The innovative approach even caught the attention of Work In Sports, a members-only sports job site, and the organization produced a case study of Boleska's approach to job management education. sport.
At first, Cooney and Marroquin were surprised by the change, but they were receptive to the new model.
"I loved everything she did with the classes and all the changes she made," Marroquin said. "Nowadays, when you think about it, kids don't learn as much from books anymore. It's more videos, they listen or watch an expert speak for an hour.
Additionally, Boleska places a high priority on practical skills that help students find internships and full-time positions after graduation.
Students focus on developing their communication skills through video essays, honing their resumes throughout the school year, and networking through the program's guest speakers, LinkedIn, and to webinars. Boleska also meets with each student at least once a month to assess their progress.
Cooney was unsure if he would like these aspects of the program at first. However, after engaging in networking and writing his resume, he saw the reward for his work.
"She's done a great job of taking ownership and basically trying to shape the sports management program," Cooney said. "She brought her genius idea to life."
He completed his first internship at UMSL, where he was involved in almost every aspect of game day operations. This prepared him for his next internship over the summer with the Alton River Dragons, where he and Marroquin did a bit of everything, including ticket sales, community relations, club operations game day and inventory. Marroquin was even able to dress up as the River Dragon mascot at games and community events.
They both learned valuable lessons working for the River Dragons. The internship made it clear to Marroquin that employees need to be versatile and versatile to work in sports, and Cooney found that doing community outreach and making cold calls to sell tickets greatly improved his communication skills.
Cooney is entering his final year in the program, but he's leveraged his River Dragons experience and LinkedIn connections into a part-time community ambassador position with the St. Louis Cardinals. He is optimistic that it will lead to a full-time position after graduation.
"This position came up, and I wanted to jump on it immediately," he said. "It's a direct hit in business sales. I'd like to do it a bit – get that aspect of business sales. Being able to learn the methods of talking to someone and being able to negotiate – I feel like that's such an important aspect in sport that not many people want to do. But if you can master it, it keeps you going for years.
Marroquin, who graduated last spring, recently accepted a full-time position with St. Louis City SC as a ticket sales account manager. Boleska sent him the job offer in July after a representative of the new professional football club contacted her about several entry-level positions.
He is excited to work in professional athletics and also help make an impact on St. Louis.
"I feel so blessed and a bit lucky at the same time," Marroquin said. "I know it's not common for a graduate to land a job with a well-known brand right after graduation. Getting my bachelor's degree was already a big step in my career and landing this amazing job makes me even more excited for the future.
But these successes are more than luck. Sports management students have learned that achieving their goals is more about making their own luck – networking and seizing every opportunity that presents itself.
Although Boleska puts it a bit more succinctly to students: "Right from the start, if you work the program, the program will work for you."

Short URL: https://blogs.umsl.edu/news/?p=90505