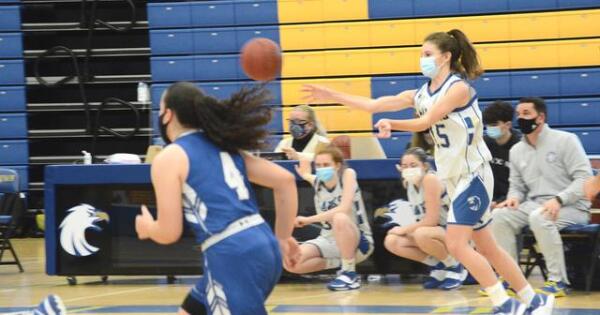 Multi-sport athletes Magazu and Petersen are recognized
Emma Magazu and Jack Petersen stood out in three sports at Newtown High School – both on the football and basketball courts, Magazu making his mark at lacrosse and Petersen on the baseball field.
For their efforts and accolades on and off the court, not just last year, but during their high school careers, Magazu and Petersen were selected from a pool of many deserving candidates as The Newtown BeeNewtown High School Athletes of the Year.
Although they stood out in games and helped their teams to wins and playoffs, there is much more to the Newtown High athletic career of these student-athletes, who each served as captains of their teams. over the three seasons of the last school year.
"The athletic part is not the first thing that comes to mind. It's their leadership, their character and how they really exemplify what it means to be captain. They push their teammates, they act as assistant coaches to their coaches. They went above and beyond," said Newtown High Athletic manager Matt Memoli.
Magazu was injured early in the football season and stayed out during the team's run to the Southwest Conference North Division Championship game, but was on the bench to support her teammates at every step of the way.
"She just couldn't have been a better leader, for someone who wasn't playing," said Marc Kenney, coach of the Newtown High School girls' soccer team.
Magazu says it's the camaraderie she enjoys the most in sports.
"Being with your team is probably the best part of the sport. You make so many new friends and contacts. Whether it's a win or a loss, we're always there for each other," Magazu said.
Among Magazu's fondest memories were the football team's pre-season trips to Portsmouth, RI and lacrosse training with other teams; for example, the lacrosse team trained with Cheshire and Wilton last spring.
Magazu won three Southwest Conference championships during his high school career, helping the basketball team to a title and the football team to two wins.
"Emma is the true definition of a warrior. She will do whatever it takes to help the team win. She can always be counted on," said Jeremy O'Connell, coach of the women's basketball team. ball from the NHS." I had an absolute pleasure coaching Emma. She is the type of student-athlete that coaches dream of. To say I will miss her is a complete understatement.
Petersen played an interesting role as captain during the basketball campaign. The three-year-old starter was captain in his junior year, then he was the only senior on the roster last season.
Tim Tallcouch, Petersen's basketball coach and NHS teacher, said Petersen was a great role model in the classroom, as well as in practices and games, showing young players what it takes to be successful. "The kids really appreciate it," Tallcouch said.
" We will miss him ; I will personally miss him. He was an extension of me on the pitch. Of course, I trust him. It's a big loss, but I'm glad he's continuing his career at the University of Connecticut," Tallcouch said.
Some of Petersen's fondest memories include his sophomore year in baseball when the team went 18-2 and reached the quarterfinals of the state playoffs. "It was just an amazing team to be part of. I learned a lot on the pitch and outside of my teammates," he said.
Another fond memory is from last fall when Petersen and the football team won a conference championship.
Magazu earned all SWC honors for basketball his junior and senior seasons, and earned All Conference lacrosse honors his sophomore and senior years; remember, spring athletes missed the sport completely in 2020 due to the coronavirus. Magazu earned SWC All Academic Team honors and USA/Connecticut High School Coaches Association (CHSCA) All American and CHSCA All State Academic recognition.
Petersen earned every SWC accolade for basketball from his sophomore year through his senior years and earned all-state recognition last season. Petersen also received all state academic honors for football and baseball his sophomore year, football and basketball his freshman year, and basketball again his senior slate.
Magazu and Petersen were both selected as Connecticut Interscholastic Conference Scholar Athlete Award winners.
Tallcouch points out that the success of these athletes can show students that they don't have to focus on one sport to excel at it, and he recommends that they play as many sports as possible during their only opportunity in high school.
That said, playing three sports doesn't preclude specialized off-season training for athletes, Kenney said, adding that athletes like Magazu and Petersen do a lot to excel in their sporting pursuits.
"It's a tough thing to juggle, not just multiple sports in a year, but multiple sports in a season," Kenney added.
Accustomed to playing three sports, these stars will now have to focus on just one as they take their games to the next level. Magazu will play lacrosse at the University of New Hampshire, and Petersen will play baseball at the University of Connecticut, joining his brother Todd on the baseball field for the first time since that momentous run through neighborhoods across the state. with the Newtown Nighthawks.
"I'm super excited to play at UNH and continue my education," Magazu said.
"I'm really excited, especially because my brother is here and I know how much fun he's having," Petersen said.
"I think it's obviously good to move on, but the last four years have been great. I'm definitely going to miss playing football and basketball," Petersen said, adding that the overall high school experience, the I will also miss coaches and classmates.
Sportswriter Andy Hutchison can be reached at [email protected]
Emma Magazu passes the ball during a game against Stratford's Bunnell last winter. Magazu has played three sports and won the Athlete of the Year award from Bee's Newtown High School. —Pictures of bee files
Emma Magazu kicks the ball during a match against Masuk in her freshman year.
Emma Magazu carried the ball onto the pitch last spring.
Jack Petersen dives for a loose ball against Stratford last winter. Petersen, a tri-sport athlete, received the Athlete of the Year award from Bee's Newtown High School.
Jack Petersen moves the ball. Petersen helped the football team win a conference title in the fall.
Jack Petersen prepares to throw through the diamond during a conference playoff game at Masuk of Monroe this spring.