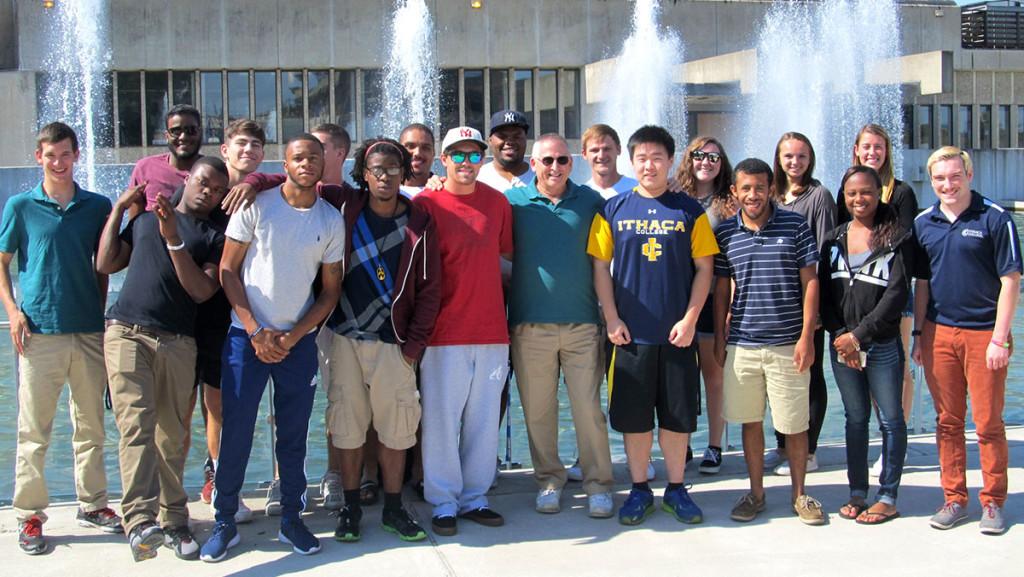 Ithaca College to relocate sports and media management majors
At a town hall meeting on April 29, Ithaca College faculty and administrators announced a proposed split from the Sports and Media Management Department in an effort to better organize programs and provide more opportunities for students. However, students criticized the decision, saying they felt they weren't included in the process.
To a small audience of faculty and less than 10 students, Annemarie Farrell, associate professor in the Department of Sports and Media Management, and Kyle Woody, instructor and sports media program coordinator, announced the sports media majors and of Sports Management – ​​which are currently housed in the School of Health Sciences and Human Performance – would move to the Roy H. Park School of Communications and the School of Business, respectively.
Voting to move the sports media major takes place at the department level, and faculty have until May 2 to vote. The decision to move sports media is also pending approval from the deans of HSHP and Park School.
Woody said he thinks the move will benefit the program going forward.
"I'm so thrilled to have this recognition and this Park brand because, as we all know, it's one of the best communication schools in the country," Woody said. "The sports media program aligns perfectly with Park, academically, and the learning points housed in Park."
The decision to move the sports management major is now at the provost level, as the faculty and deans have already voted and approved the move.
Farrell said this proposal will allow the sports management program to continue to move forward and meet the demands of the field in the future.
"We found it was a pretty obvious overlap in terms of what they do in business and in terms of what we do in sports management," Farrell said. "What made sense to us when we were talking was the value of having a degree in business administration with a concentration in sports management. If I thought there were significant downsides, we wouldn't.
Both programs plan to have their respective proposals before the Ithaca College board of trustees this summer, and the changes, if passed, will be effective for the fall 2016 semester, Farrell said.
Linda Petrosino, dean of HSHP, said the athletic studies major, which the school decided to eliminate in the fall of 2014, will not be reinstated in the near future. This decision was made due to a record number of enrollments in the program, but drew backlash from students and alumni. The miner will continue to exist, but no decision has yet been made as to where it will be hosted.
"We never make such a big decision on a data point, so we look at multiple reasons," Petrosino said. "We are constantly reviewing curricula and curricula to make decisions. Admittedly, it was a very difficult decision to make. »
Sports studies professor Stephen Mosher, along with many students, said he disagreed with the elimination of the sports studies major.
The sport-studies program emphasizes the place of sport in modern society. Mosher said that without the program, he feared students would gain this knowledge.
"My biggest concern in this event is that the identity we've had for 30 years as a department, where social justice issues are an issue in all of our classrooms, is being lost," Mosher said.
Senior Elijah Breton, double major in communication and sport-studies, organized an open letter with nearly 300 signatures published in Ithaca April 28 asking for the reinstatement of the sport-studies major. He says eliminating the sport-studies major doesn't make sense.
"The truth is that business school students with a concentration in sports management as well as sports media students can now do a minor in sports studies," Breton said. "The minor is going to grow so big that you really need to add another setup line, and in that case they really should bring the major back."
Kyle James, a double major in sports studies and integrated marketing communications, said the students weren't involved in the decision-making process.
"We weren't consulted at all," James said. "There was nothing really said about it. All we knew was that the program was going to be reviewed, but to my knowledge nothing was specifically said to the students before the decision has been made.
Breton said the time slot, 3 p.m. on a Friday, was not a realistic time to gather enough feedback from students.
"From speaking with some of my peers, there's a bit more disappointment and less satisfaction about why they couldn't attend," Breton said. "They felt that a Friday at 3 p.m. was not the most ideal time slot to attract as many students as possible. It's a bit empty here.